1-603-886-3874
| | |
| --- | --- |
| | |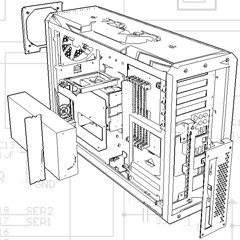 Product Customization
Customized portable workstations, rugged portables, and dense rackmount servers
When you work with NextComputing, you're not confined to the hardware and configurations you see on our website. Whether it involves new components, a modified chassis, or something else entirely, bring all your ideas to the table and we can work together to create just what you need.
Unlike the big brand manufactures, "disposable computing" and "built in obsolescence" are not in our vocabulary. When your needs change, we can extend the life of your modular NextComputing product seamlessly and at a reasonable price. If you're an OEM with your brand name on a NextComputing product, you can pass along the same easy, affordable upgrades to your customers.
Example Custom Configurations:
Radius LE: Based on requests from multiple customers, we developed a custom Radius configuration based on a mini-ITX motherboard. Our Radius LE variant was reconfigured from the ground up for desktop-class processors and a thinner profile for limited workspace. Radius LE Datasheet (PDF)
DoD Application: Working with the Department of Defense, we developed a Radius EX system to suit their specific needs. Customizations included low-wattage CPUs, higher than average temperature tolerance, and more storage than we have ever offered.
Contact NextComputing and tell us what you need in terms of processing, storage, or graphics capability. We'll build it and you can take it wherever your business or customer needs lead you.