1-603-886-3874
| | |
| --- | --- |
| | |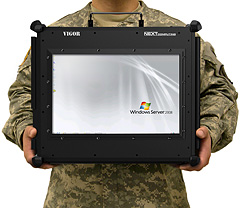 ---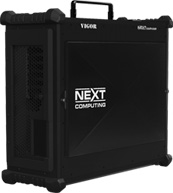 Vigor EX-B
The Vigor EX-B is a battery-powered, fully mobile rugged server / workstation, able to run on its own internal power for up to 4 hours, making it ideal for tactical operations centers and other mission-critical environments with intermittent or unreliable power. Because of its "always on" capability, the Vigor EX-B is especially suited for deploying local cloud services into the field.
The rugged anodized aluminum chassis with both interior and exterior rubber shock absorbers insures that the system will hold up to the rigors of field use. Also, to ensure security of sensitive data, the system supports Intel's Trusted Platform Module (TPM) technology, a growing requirement for many defense and intelligence programs.
Product Highlights
Dual-chassis design featuring shock-mounted internal chassis suspended in a rugged, mil-anodized external chassis with no metal-to-metal contact
Internal battery and UPS ensures no power loss
Removable back-panel allows full access to hot-swappable drives and all internal components for easy service and upgrades
Virtualization-ready platform based on VMWare certified Intel® architecture
Tech Specs
The Vigor EX-B can be configured to your specific needs. Technical specs include:
Dense, small form-factor, rugged chassis (7.92" D x 17.53" H x 19.75" W) weighing less than 50 lbs.
320W power supply with removable Lithium-ion battery pack
Single Intel® Xeon® or Core™ i7 processor
Up to 32GB DDR3 memory
Multiple terabytes of internal storage capacity using fixed or swappable SATA, SAS, or Solid State hard drives
Four (4) full-length, full-height PCI Express 2.0 expansion slots to accommodate off-the-shelf Gigabit, 10G, or Infiniband networking cards
Available with or without an integrated 17.3-inch widescreen display and/or 2nd and 3rd "swing-out" HD displays
Range of available graphics cards from NVIDIA® and AMD
Optional Equipment
Rugged hard case (MIL-STD-2073)
Secure wireless keyboard with integrated trackball
For a complete listing of technical specifications, please download the product data sheet.
For More Information:
The Vigor EX-B gives you rugged, high-performance computing with reliable power. To learn more or get pricing, call a NextComputing Sales Engineer at 1-603-886-3874 or click here to request more information.