1-603-886-3874
| | |
| --- | --- |
| | |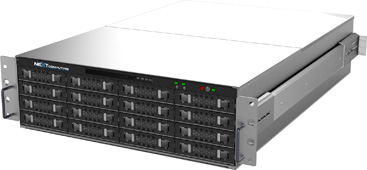 ---



Nucleus RM Capture 16X3
The Nucleus RM Capture 16X3 is a customizable, reliable, high-throughput platform for data recording. Key features that differentiate this from other platforms are massive storage capacity (in the form of 16 front-access 3.5" hard drives), and deep customization options (including proprietary IO modules and custom branding).
True to NextComputing's architecture, the Nucleus RM Capture 16X3 also features high-performance multi-core processing, near limitless expandability, and additional services such as configuration management and integration.
The Nucleus RM Capture 16X3 enables very high sustained write-to-disk rates for capturing network traffic at full 10Gb/s line rate or higher, while flexible I/O provides future expansion to faster interfaces such as 40G and 100G Ethernet.
Product Highlights
Compact 3U rack-mount chassis
Removable high-capacity hard drives, no tools required
Modular layout for easy upgrades and customization
Private labeling options
Tech Specs
(16) front-access removable 3.5" SATA (up to 4TB) or SAS (up to 900GB) hard drives
(2) rear-access removable 2.5" drives, intended for easy service of system and/or application drives
Up to (7) full-length, full-height PCI Express 3.0 expansion slots
for network capture or high-performance RAID controller cards
Two Intel Xeon processors
512GB DDR4 memory maximum
Multiple redundant and/or hot-swappable AC and DC power supply options
For a complete listing of technical specifications, please download the product data sheet.
For More Information:
The Nucleus RM Capture 16X3 is available now from NextComputing and its authorized resellers. To learn more or get pricing, call a NextComputing Sales Engineer at 1-603-886-3874 or click here to request more information.