1-603-886-3874
| | |
| --- | --- |
| | |
Nucleus Server
While enterprises are always looking for ways to reduce the cost of running their datacenters, there is a limit to how much space and power can be freed up with traditional rack-mount systems. Even tower servers are still quite large, and moving them more than occasionally is not practical. Also, many tower servers lack redundant power or integrated storage on par with rack-mounted solutions.
The Nucleus Server solves these shortcomings by providing rack-mount reliability and performance, but in a compact system that is easy to transport. It is optimized for full-scale server deployments that require a mix of virtualization, high-speed networking, and enterprise-level storage.
This can be especially useful for companies that need to run high-end software away from the office, such as conducting sales demonstrations or proof-of-concept installations. In cases where complex applications using multiple virtual machines must be utilized, the Nucleus Server is the ideal alternative to under-performing laptops or shipping bulky servers to a customer site.
Product Highlights
Compact and space-saving mini-tower chassis: 17.37" H x 16.75" W x 5.80" D
Robust virtualization support including VMware vSphere and ESXi, Microsoft Hyper-V, and Citrix XenServer
Tech Specs
Single Intel Core i7, or dual Intel Xeon processors
Up to 256GB DDR3 unbuffered ECC memory
Up to (20) fixed or (14) removable hard drives with RAID 0/1/5/6/10 configurations
Redundant 1300W 2+1 hot-swappable power supply module
Optional Equipment
Rolling transit case with telescoping handle and wheels
Rugged hard case (MIL-STD-2073)
Secure wireless keyboard with integrated trackball
For a complete listing of technical specifications, please download the product data sheet.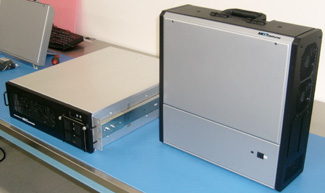 Nucleus Server pictured next to Nucleus RM rack-mount version.
For More Information:
The Nucleus Server is available now from NextComputing and its authorized resellers. To learn more or get pricing, call a NextComputing Sales Engineer at 1-603-886-3874 or click here to request more information.