1-603-886-3874
| | |
| --- | --- |
| | |
Broadcast & Digital Media
Compact, powerful computers for digital video production
Creating compelling content requires tools that enable the creative process, not tie you down. Whether you're shooting a feature film, editing a documentary, conducting a live webcast, or producing a sporting event, you need technology that is reliable, proven, and easy to use.
NextComputing's products are designed for the needs of professional content producers. Now you can replace that aging workstation or lackluster laptop with a more robust system, backed by a company that understands your challenges and knows how to overcome them.
Case Studies
A Customized Sports Broadcast Solution
Introducing the Radius Live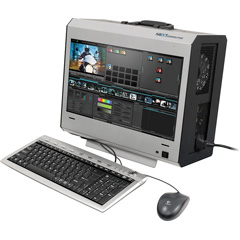 The latest addition to NextComputing's line of portable workstations is specifically tailored to broadcast and media applications. Like other Radius portables, it offers full-size PCIe expansion slots and massive storage capabilities to meet the needs of your most demanding applications. The Radius Live also offers:
Low-noise fans and a quiet power supply for noise-sensitive production environments
integrated 5.25" bay option for expansion devices like LTO tape drives, removable SSD carriers, camera card readers, and additional hard drives
Click here to learn more about the Radius Live
Use NextComputing Solutions for:
Broadcast Graphics (Character Generator)
Real-time broadcast graphics require high-end computer hardware such as powerful graphics cards, video I/O cards, and very fast processors – hardware that is typically only found in large tower workstations or bulky rackmount servers. However, smaller, lighter systems often make sense for fast-paced production situations where hardware must be moved around to different event locations. Instead of shipping unwieldy workstations and hoping they survive the trip in one piece, consolidate your hardware down to a convenient portable workstation without sacrificing performance.
For stationary environments where portability isn't a concern our space-saving rackmount workstations offer better functionality than a typical workstation in a fraction of the space. Systems like our Nucleus rackmount systems also feature redundant power supplies, flexible I/O, and hot-swappable hard drives for a truly purpose-built live broadcasting solution.
Application Examples:
Sports clock and score systems
Telestration and game enhancements
Election coverage
Virtual sets
News graphics
Live Switching & Encoding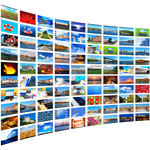 With more video being viewed online every day, content creators and distributors are looking for new ways to engage the audience with unique web content without a huge technology investment. Although dedicated hardware switchers and encoders can produce great quality, their lack of flexibility and streaming capability are often barriers to entry for many producers. NextComputing's portable workstations and compact tower systems offer the same capability as larger systems but in smaller, lighter packages — perfect for live event production from any location.
To view an example multi-camera production workflow involving the Radius Live, click here.
Application Examples:
Corporate webcasting, such as executive briefings and training
Lecture or presentation capture for conferences or schools
Multi-camera event production, such as sporting events or concerts
Religious sermon production and streaming
Digital Film Production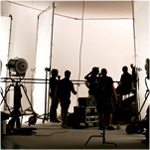 Digital video workflows are now a reality whether you're producing a television series or a feature film. Productions are challenged with how to reliably handle the huge amount of camera data created by the latest digital cameras, while ensuring that the footage is backed up and prepared for post-production. As a result, the roles of DITs and data wranglers have become critical in guaranteeing a smooth transition from production to post.
Cinematographers are also leveraging the immediacy of digital cinema technology by being able to review shots and create dailies with burned-in looks, all before ever leaving the set. NextComputing's portable workstations and compact tower systems make it easier to do this on-set by offering the kind of performance you would expect from a high-end workstation in smaller, more integrated systems.
Application Examples:
On-set camera file backup and archiving
Color correction and grading
Uncompressed direct-to-disk recording and playback
Multi-format dailies creation
Virtual production and previz