1-603-886-3874
| | |
| --- | --- |
| | |
Broadcast & Digital Media
Compact, yet powerful computers for digital video production
Creating compelling content requires tools that enable the creative process, not tie you down. Whether you're shooting a feature film, editing a documentary, conducting a live webcast, or producing a sporting event, you need technology that is reliable, proven, and easy to use. Yet in many cases even the well-known vendors fail in this area, selling you computers that are not designed for the task or powerful enough to get the job done.
Whether you're looking for a fast portable computer, a compact tower, or a dense rackmount system, NextComputing's products are designed with the needs of digital media producers in mind. Now you can replace that aging workstation or lackluster laptop with a more robust system, backed by a company knows your problems and your business.
Use NextComputing Solutions for:
Broadcast Graphics (Character Generator)
Real-time broadcast graphics require high-end computing that is typically found in large tower workstations or bulky rackmount servers, such as powerful graphics card, multi-core processors, and PCI Express video I/O. Particularly for sports, it often makes sense to transport graphics systems to different event locations in order to provide the same tools and a consistent look for every show. Instead of shipping around unwieldy workstations or server and hoping they survive the trip in one piece, consolidate your hardware down to a convenient portable workstation, small form-factor tower, or lightweight rack system without sacrificing performance.
Partners:
Live HD Encoding & Streaming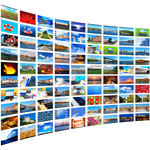 With more video being viewed online every day, content creators and distributors are looking for new ways to engage the audience with unique web content without a huge technology investment. But the hardware required to encode live, HD video in real-time requires a specially configured system with powerful processing and specialized video capture cards. Whether you're producing a corporate webcast or presentation, multi-camera sports show, or high-impact religious program, NextComputing offers same capability as more typical desktop or rack system in smaller, lighter packages — perfect for live event production from any location.
Partners:
On-Set Data Management & Dailies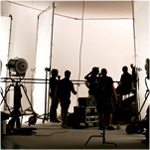 Tape and film are disappearing and digital workflows are now a reality whether you're producing for broadcast television or a feature film. Productions are challenged with how to reliably handle the huge influx of data created by modern digital cameras, while ensuring that the footage backed up and prepared for post-production. DITs and data wranglers have become critical in establishing digital workflows and ensuring a smooth transition from production to post.
Cinematographers can also leverage the immediacy of digital cinema technology by being able to review shots and create dailies with burned-in color – all before ever leaving the set. NextComputing's portable and compact computers make it easier to do this on-set by offering the kind of performance you would expect from a high-end post-production workstation in smaller, more convenient systems.
Partners: